---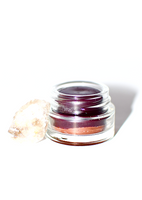 All The Things 🌹💕
Can't go wrong with this OOAK creation! I have had & loved Flowers & Madder Root in the past so I was really happy to be the lucky one to purchase this specimen.
call

is

to



jupiter's second largest moon, the third largest moon in the solar system, and the fourth moon orbiting jupiter. composed of equal amounts of rock and ices, this moon may have a subsurface ocean of liquid water. the surface of this moon is both the oldest and most cratered in our solar system. possibly harboring life, callisto has long been considered a future space base for the human race. it is one of 80 of jupiter's moons. it is tidally locked with jupiter, meaning like our moon, only one side faces jupiter at all time. uniquely enough jupiter appears to hang over it if you were to observe from callisto!

elemental layers -
uses – tinted makeup gloss for lips. please read through ingredient lists thoroughly for each formula included if you have any allergies.

this purchase includes a 1/4oz (7ml) glass jar with callisto.
each Plant Makeup object is one of a kind. all sales for objects are final.
made with love